Here's a quick and easy recipe for those who would a) foresee themselves be "infected" with the coming Monday Blues, or b) already biting their nails, thinking of tomorrow like him. :p
I have cans of Campbells instant soup unopened in my cabinet and then one day, I realized their expiry date is approaching. Desperate to find a way to clear them up, I asked Precious Pea and even emailed Jaden from Steamy Kitchen if she could help. She sent me the Campbell's Kitchen website and suggested that I should try to experiment with broccoli. That's how the idea of turning the soup into pasta sauce came into my mind. However, I still wasn't very convinced about it (the question "will the sauce tastes weird?" keep popping up in my brain), so I asked DL and WMW over to be my "lab rats".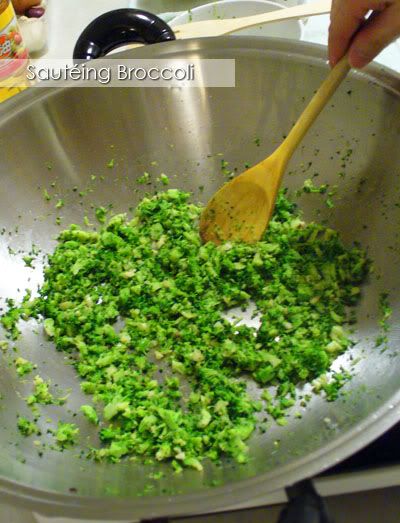 Cream of Chicken and Broccoli:
1 and a 1/2 medium broccoli, cut into florets and chopped coarsely (depending on your preference)
300 grams smoked bacon chips, diced into smaller bits (add more if you like bacon)
1 can of Campbell's cream of chicken
some olive oil, salt, sugar and freshly cracked black peppercorns to taste
Heat up some olive oil in saucepan with medium heat and put in the bacon chips. Stir constantly and let them brown nicely in the pan. Dish up and reserve the oil in the pan.
Increase the heat and add the chopped broccoli to the oil. Stir till the moisture from the vegetables has been drawn out. Add in the cream of chicken and water according to your prefered consistency. Mix well and let it simmer a while.
Season with salt and sugar and toss them with any of your favourite pasta. Garnish with bacon chips and freshly cracked black peppercorns.

The end product turned out to be pretty good; both DL and WMW liked it. I tried making this again few days ago with cream of mushroom and I found that the taste of the cream of mushroom blanketed the broccoli and with darker colour as well, so I recommends you to use only cream of chicken for this. You can also store the excess sauce in Tupperwares in the freezer.